Art Auction for Second Chances
June 5 @ 12:00 pm - 5:00 pm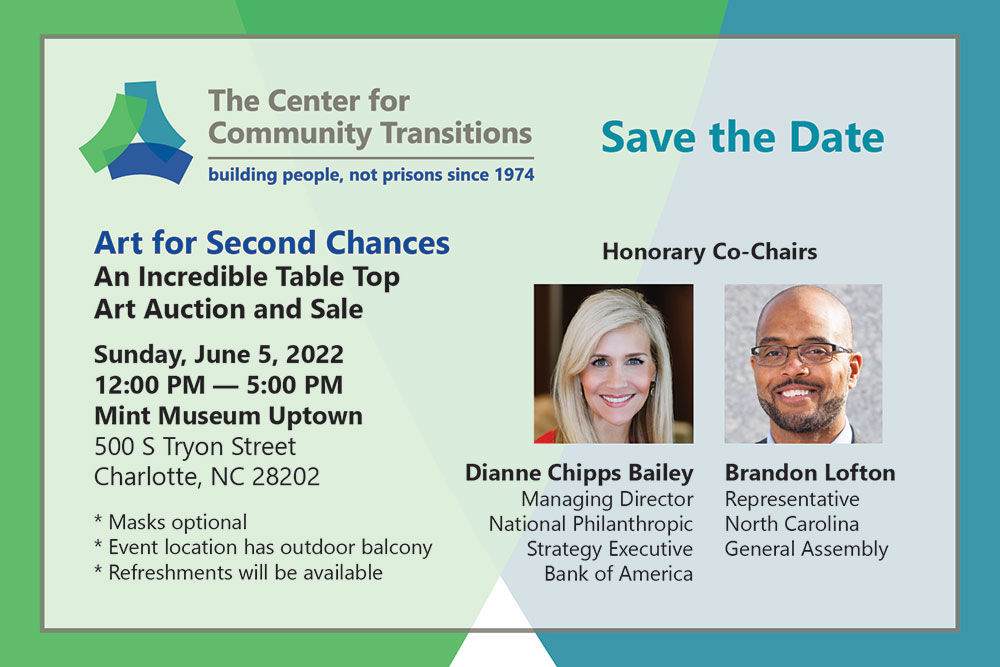 Save the Date for An Incredible Table Top Art Auction and Sale
Spend an afternoon acquiring an inspiring work of art. Paintings, mixed media, and original prints by local, regional, and national recognized artists.
Join us on Sunday, June 5 from 12-5pm! LIVE AUCTION BEGINS AT 3PM.
Please consider being a sponsor of this important fundraiser.
The Center for Community Transitions is a 501(c)3 non-profit organization and has operated in Charlotte for nearly 50 years. CCT provides a wide range of services for women, men and families affected by incarceration. Services include: employment training, social and emotional curriculum for children enrolled in Charlotte Mecklenburg Schools, and transition support to women releasing from prison back into the community.
Auction Sponsorships are available at the following levels:
Gold $2,500 | Silver $1,000 | Bronze $500
Sponsors will be recognized in event brochure, agency website and social media.
For additional information, please contact:
Patrick Diamond
Development Director
[email protected]
The Center for Community Transitions
P.O. Box 33533
Charlotte, NC 28233