Care through COVID: Families Doing Time feeds families, makes community connections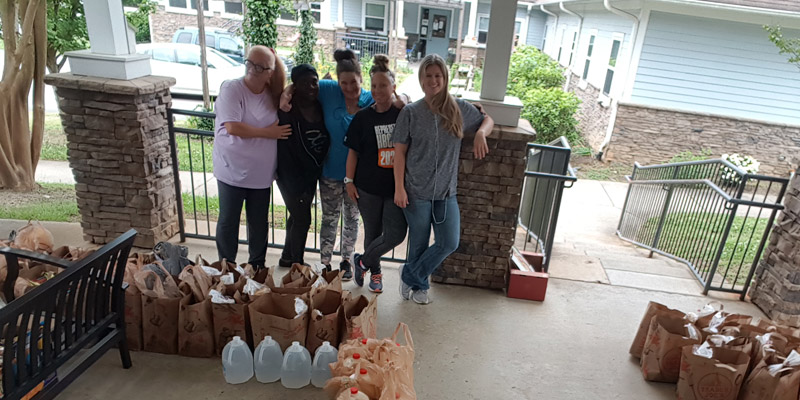 Over the last several months, Ms. G's home in East Charlotte has been more crowded than usual. The home health aide and longtime Families Doing Time (FDT) client is caring for 16 family members who've been affected by COVID-19, domestic violence and job loss.
Understandably, she's overwhelmed and frustrated at times. Yet through it all, she remains grateful and always has a smile on her face.
"I want to thank Ms. Ciara (Thompson) and Ms. Ilona (Alvarez) from Families Doing Time for thinking about families during COVID-19," she said. "The (Every Tuesday) food distribution program made it possible for me to feed my family during this difficult and uncertain time."
Third Tuesday becomes Every Tuesday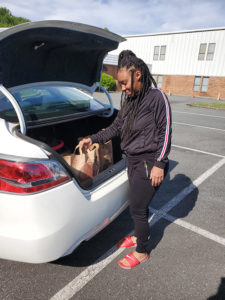 In May, FDT shifted its Third Tuesday family gatherings to an Every Tuesday meal distribution program. Individuals impacted by incarceration and their family members can pick up essential supplies and groceries, including nonperishables, children's books and games, toiletries and cleaning supplies.
Since its launch, 22 families (120 adults and children) have benefitted from the program. Rather than ask clients to come to the Center for Community Transitions office, FDT staff and volunteers head out into the community to set up distribution centers in parts of town where clients live.
"Due to COVID-19 restrictions and to protect ourselves and our clients, we set up at two parking lots: Calvary Church on the East side of town and Thomasboro Academy on the West side," Alvarez said. "We wear masks, carry hand sanitizer and give families instructions on how to sanitize groceries before bringing them into their house."
FDT staff and volunteers deliver groceries and supplies to several families who aren't able to come to a pick-up location due to different circumstances. "Some people don't have transportation, or they're unable to drive because of surgery, or they don't have another person who can pick items up for them," Alvarez said.
Connections to community resources
Another vital part of the Every Tuesday program is making clients aware of reputable community resources and partner agencies that can assist them during the pandemic and beyond.
"New and additional resources are always popping up, but there have also been reports of scams using the personal information of people in need," Alvarez said. "We vet resources for our clients and help identify which ones they can benefit from."
Additionally, the FDT team provides updates on affiliates and partners such as Loaves & Fishes, Crisis Assistance Ministry, Atrium Health and Novant Health. For example, they'll let clients know about free COVID testing sites, whether there have been changes in partner hours or programming, new mobile pantry sites, free mental health lines, or summer meal programs for kids.
Added Alvarez, "Our volunteers are also helping us reach out to each client so we can keep assessing their needs."
Thankful for volunteers and donations
Every Tuesday is made possible through generous community and corporate donations and volunteers, including Kevin Byrd from Elevation Church, student intern Molly Dana from Case Western Reserve University, Trader Joe's at Metropolitan and Publix at Cotswold.
"The Center for Women ladies also have been fantastic advocates for the Every Tuesday food distribution program," Alvarez said. "They help out by loading, unloading and sorting groceries and supplies in great spirits and with a sense of service."
Donate today to support Every Tuesday and provide essential supplies and groceries to individuals and families impacted by incarceration.
Help CCT Pack a Backpack!
We're providing 150 backpacks filled up and ready for the 2020-21 school year. They'll be distributed to 150 elementary, middle and high school students who participate in CCT programs. Our goal is to ensure students return to school this fall feeling confident and prepared! Please help us fill backpacks by purchasing one or more items from our Amazon Smile wish list. Thank you!