For more than four decades, the Center for Community Transitions (CCT) has assisted individuals and families throughout the Charlotte-Mecklenburg community who have been impacted by incarceration, while also serving as a thought leader on re-imagining justice.
In the early 1970s, a North Carolina Department of Correction intern presented a white paper on reducing recidivism by helping people find employment and housing when released from prison. Research at that time - and still today - cites employment as a way to reduce recidivism. From that document, NCDOC applied for an AmeriCorps VISTA (Volunteers in Service to America) grant to help inmates transition from prison to the Charlotte community.
CCT has grown from serving 100 people annually to serving 1,500-plus while operating with 23 full-time employees and a $1.7 million annual budget. The timeline below charts CCT's history, highlights, notable news and milestones.
1974
Ex-Convicts Organization (pronounced 'echo') becomes a 501c(3) organization to "fill the needs of ex-cons and to keep them ex-cons." ECO begins its operations in the basement of First Presbyterian Church in Charlotte on a $700 annual budget. Brochure copy reads: We use prisons in two ways: to protect ourselves from dangerous individuals but mostly to punish people for their bad deeds. But in trying to punish them, we often punish ourselves more. 83% of all prisoners are convicted for nonviolent crimes. These people are then incarcerated with violent criminals; they learn dangerous skills in prison, they become alienated, they lose touch with our changing world.
1978
Ex-Convicts Organization changes its name to Energy Committed to Offenders. Its mission is to improve the quality of life in Charlotte-Mecklenburg by restoring offenders to their families and the community, helping them find work and reducing recidivism. ECO works with offenders during their incarceration in county and state facilities by offering presentations on post-release employment. ECO also assists recently released offenders by providing transportation for job searches, new jobs, housing and clothing referrals and helping them obtain copies of their social security cards and birth certificates.
1979
North Carolina has 261 inmates per 100,000 population - the highest in the nation.
1986
In response to the closing of five residential facilities for women, the North Carolina Legislature passes a bill to allow ECO to provide housing for women nearing the end of their release from prison.
October 1987
The 20-bed ECO Center for Women opens as the state's first contract work release prison program for women completing their state prison sentences and within 3 years of parole. It helps women successfully transition from prison to their family and community while upholding standards of the North Carolina Department of Corrections.
January 1988
Gordon Poole joins ECO as Executive Director, while Myra Clark joins as Center for Women program director. The organization operates on a $400,000 annual budget with 7 staff members.
1996
ECO opens Deborah's House, a program for women being released from prison who have no housing available. The program houses up to 10 women and operates as a "halfway house" for those released. The program closes 4 years later.
January 1998
Myra Clark becomes Executive Director, following Gordon Poole's retirement.
1999
CCT begins offering support groups for families affected by incarceration.
2017
Playing for Others hosts its annual "Connecting Charlotte" event, where teens share spoken word pieces for nonprofit honorees, including CCT.
March
CCT hosts a Second Chance Alliance Listening Session for people who have been impacted by probation and incarceration. Presenters share information and resources to alleviate the consequences of having a criminal record, while participants have a safe listening space to share stories and learn advocacy tools.
CCT hosts an experiential workshop for church groups to help them understand the mental, social, financial and emotional challenges of incarceration and reentry - from the perspective of adults and children.
April
Fox 46 Charlotte's Good Day features CCT in the segment, "Do Good Week with The Center for Community Transitions."
July
Myra Clark is a guest on WFAE's Charlotte Talks with Mike Collins to discuss "Ex-Offenders and Challenges on Transitioning Back to Society."
November
CCT heads to Raleigh to meet with legislators and march and rally for National Day of Reentry Nonprofits and Charlotte's Reentry Day. Reentry Partners of Mecklenburg and the NC Second Chance Alliance organize the efforts.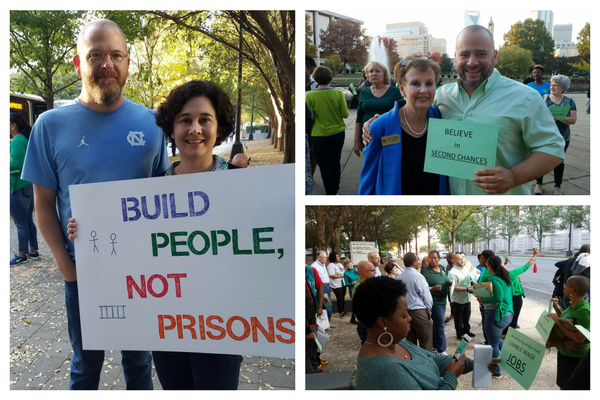 Patrice Funderburg, founder of a social justice advisory services company and Changed Choices mentor, joins CCT's Board of Directors.
2019
January
CCT hosts its first-ever Second Chance Employer Breakfast for employers who hire people with records and employers who want to learn about the benefits of second chance hiring.
March
Carolina Panthers' Torrey Smith pays a surprise visit to the Center for Women. He speaks to residents about his experience being the child of an incarcerated parent and offers words of encouragement to the women whose children have a hard time with their incarceration.
Myra Clark visits The Francene Marie Show to discuss incarceration costs, community awareness and criminal justice.
April
Retired Carolina Panther Julius Peppers presents a $10,000 check to CCT for its "amazing work in the community." As someone whose family has been impacted by incarceration, Peppers says he's excited to partner with CCT in its efforts to support families with an incarcerated loved one incarcerated and help get them re-acclimate upon their release.
May
Families Doing Time kids visit Fahrenheit-Charlotte, where they learn about culinary arts, meet Carolina Panthers Jonathan Stewart, make and eat pasta and take a behind-the-scenes tour.
WFAE includes CCT in its year-long series on Charlotte's affordable housing problem: Finding Home: Ex-Offenders Still Face Challenges Finding Housing Despite Change In HUD Policy.
June
CCT talks to media panelists about its clients and second chance employers at a PRSA Charlotte luncheon.
Fall
CCT attends the "Untapped Potential: The Hidden Workforce" event to discuss "rethinking and reimagining talent strategies to successfully tap into" an often-overlooked talent pool: formerly incarcerated individuals."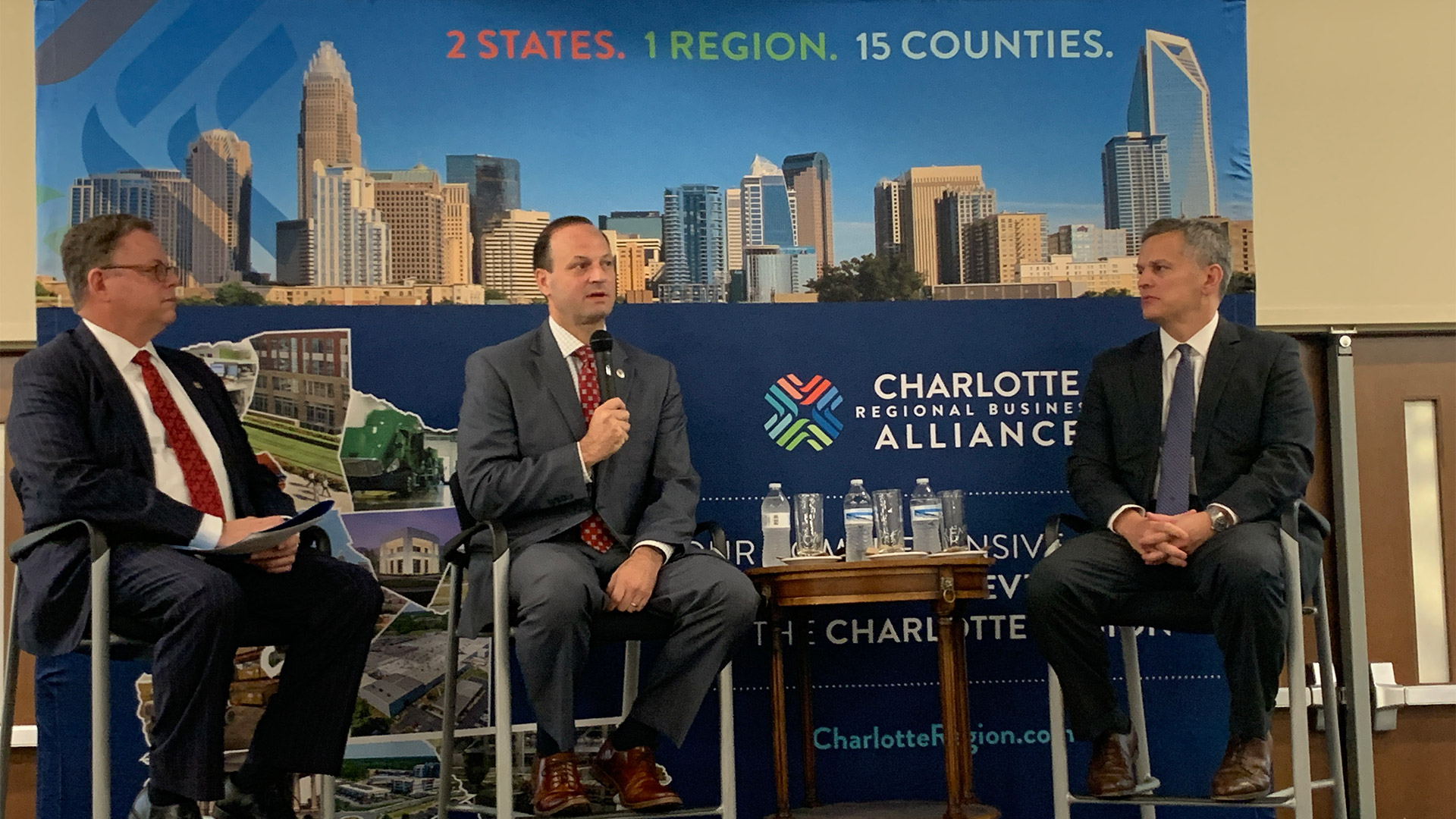 Through a partnership with the Wells Fargo Center for Community Engagement at Queens University of Charlotte, students experience firsthand how incarceration affects mental health and how CCT works with the prison system to offer services to formerly incarcerated individuals. The "Queens in Focus" inaugural newsletter highlights the partnership.
The university screens "Life After Life," a documentary that's part of the Criminal Justice Education Series: Mass Incarceration and Life After Reentry. LifeWorks! participates in a post-film panel discussion.
CCT also attends "A Conversation with Michelle Alexander" event on ending racial caste in America and insight on the challenges facing the civil rights community. Alexander is the author The New Jim Crow: Mass Incarceration in the Age of Colorblindness.
Myra Clark participates in "Second Chances, a Social Justice Imperative: Increasing Opportunities for those Returning from Incarceration," a moderated panel highlighting nonprofit service providers working in the second chance and social justice space. The event is part of Bank of America's Neighborhood Builders Leadership Program to help nonprofit leaders address economic mobility and social progress issues.
2020
January
Myra Clark announces her retirement from CCT after 32 years. Patrice Funderburg becomes the new executive director.
Myra Clark visits The Francene Marie Show to discuss community reentry after incarceration.
February
A Center for Women resident watches her daughter's Navy graduation ceremony via live stream - a CCT first and something she wouldn't have been able to do in a traditional prison environment.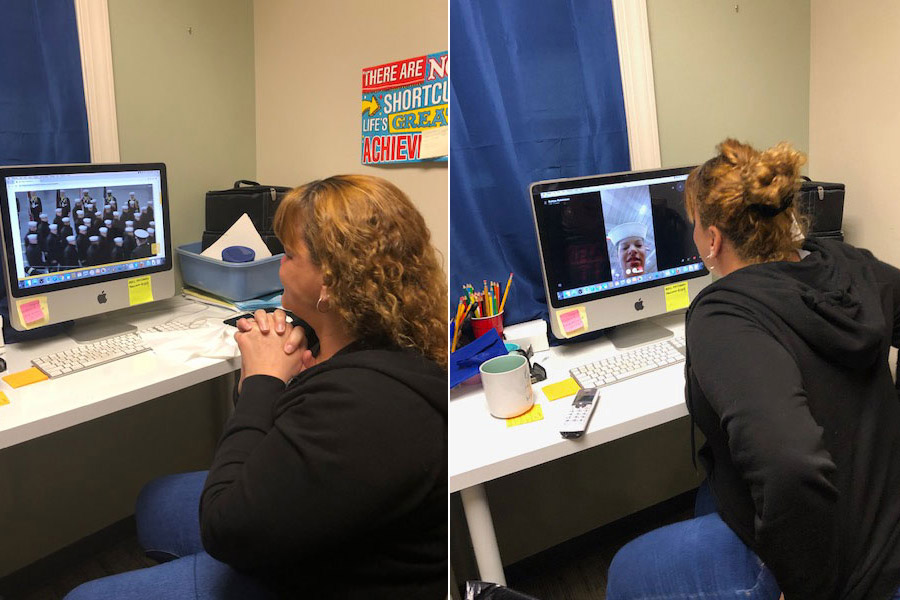 March
Patrice Funderburg visits The Francene Marie Show to talk about her new role as executive director and the future of CCT.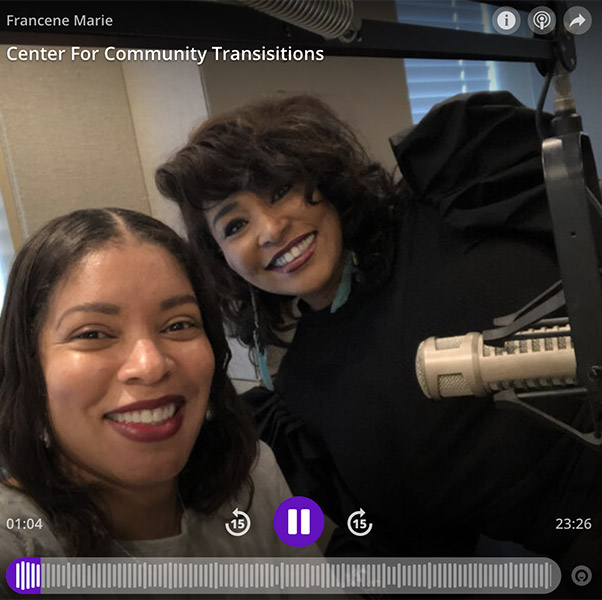 April
The United Way of Central Carolinas and the COVID-19 Relief Fund award CCT a $50,000 grant to support clients and operations during the pandemic.
May
LifeWorks! launches an e-learning platform to serve clients virtually and engage with them through technology. The pilot program kicks off with an employment readiness workshop.
Families Doing Time shifts Third Tuesday family gatherings to an Every Tuesday meal distribution program to assist families during the pandemic. Families pick up essential supplies and groceries, including nonperishables, children's books and games, toiletries and cleaning supplies.
June
Board Chair Marc Jarmosevich discusses the Black Lives Matter movement and how "our clients are disproportionately persons of color because of the rules, policies and traditions in place." He notes his commitment "to working with our partners across nonprofits, government agencies, and the corporate and small business community to break up those norms."