CCT's Center for Women Celebrates 30 Years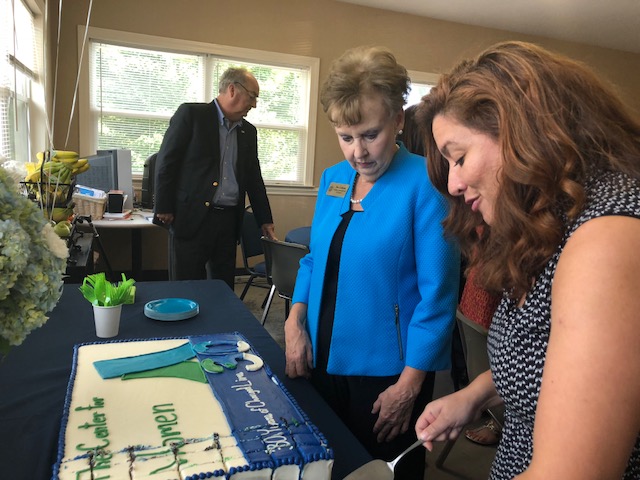 On September 6th, The Center for Community Transitions (CCT)'s Center for Women celebrated its 30th anniversary of operation and was joined by elected officials and other dignitaries for cake and powerful testimonies from employers and former residents.
The Center for Women is a thirty bed residential reentry facility for women who are still incarcerated and serving out the final years of their prison sentences. The center's mission is to assist women in successfully transitioning from prison back into the community.
Opening in late 1987 as a contract work release program, the Center for Women was created to help women successfully transition from prison to their family and community while upholding the standards of the North Carolina Department of Public Safety. The center is unique in North Carolina and one of only a handful of such facilities in the country. In its thirty years of operation, the facility has consistently boasted recidivism rates far below state average and has served more than 2000 women.
Nationwide, as many as 2/3rds of prisoners are rearrested within 3 years of their release. At CCT we believe we can change that by providing people with criminal records the tools and assistance they need to successfully transition back into our community. Our Center for Women residents have access to all of CCT's programming including our employment readiness
program, trauma and substance use treatment program, family programs, community volunteer sponsorship and more. They are required to find employment, and are provided financial assistance if they choose to pursue higher education. All of this results in recidivism rates consistently below 13% among our former residents (compared to 40% statewide). Strong reentry programs like ours are critical for lowering recidivism rates and decreasing the number of people incarcerated in North Carolina, which helps improve public safety overall.
We are so proud that this program has existed now for 30 years. It could not have done so without the support of the Charlotte Community, state legislators, and our amazing volunteers.