Center for Women: Residents Vaccinated, Ready to Work, Preparing for Reentry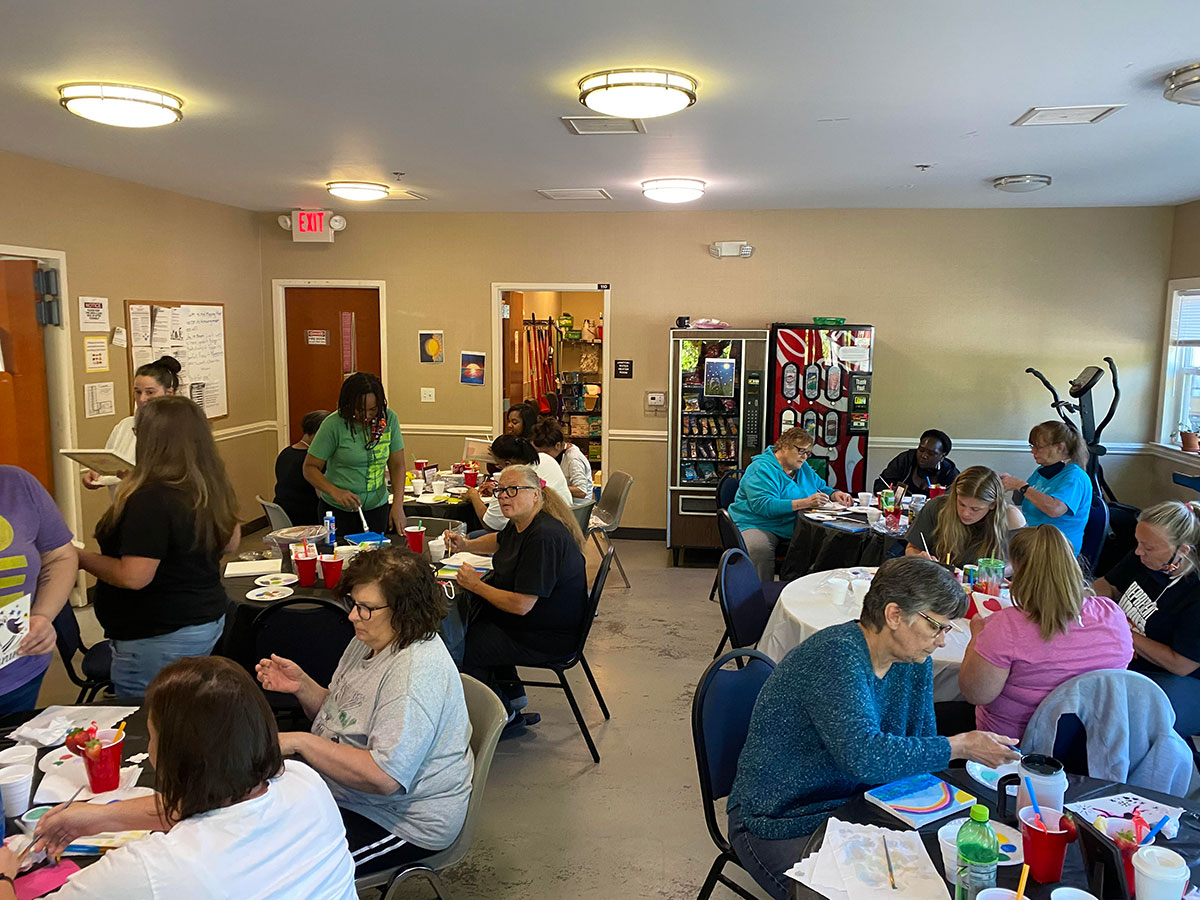 More than a year after the pandemic hit, residents serving out the final years of their sentences through our Center of Women program are finally seeing the light at the end of the dark COVID tunnel.
"The ladies have gone through some challenging times with not being able to work, no visitation, no home visits and living in a facility that wasn't built for 24/7 living," said Joanna Patcha, a social worker at the center. "The mood was generally cautious around the vaccine, but once everyone got vaccinated, it quickly turned into excitement. They are so ready to get out of the house and start working, eager to earn some money to aid in their reentry process."
Patcha added, "Our center residents have been able to connect with their friends and family over the phone and on Skype visits. But, the thought of seeing their support teams in-person will be amazing for their well-being, and the well-being of their friends and families."
Opening in 1987 as a contract work release program, the 30-bed residential facility helps women successfully transition from prison to their family and community. Second chance employers help reduce recidivism and improve public safety by hiring residents (and other justice-involved Center for Community Transitions clients) and offering them pathways to success.
"Residents have been sidelined from working since last March, but if all the stars align, we're hoping they can begin working again in June," said Delilah Montalvo, Center for Women program director. Second chance employers include Alsco, Socialserve, Amelie's French Bakery & Cafe, Bojangles, Carolina Industrial Trucks, Firehouse Subs, Genpak, Goodwill Industries, Harris Teeter, Mellow Mushroom and Nourish Charlotte.
Improving family connections
Throughout quarantine, residents have stayed busy with painting and craft projects, jewelry making, planting a garden, exercising and taking walks throughout the campus. "The recent warmer weather has helped elevate the mood with many of the residents taking advantage of the outdoor space at the facility," Patcha said.
Residents have also used the time to improve relationships with loved ones. A four-month "Courage to Change" class based in cognitive behavior theory explores topics such as self-control, social values and strengths, peer relationships, responsible thinking and substance use.
Another critical piece of the "Courage to Change" curriculum is parenting, a class Patcha facilitates to help residents develop their skills and understanding. "Parenting from inside a detention center adds a tremendous challenge to an already difficult task," she said. "Incarceration is difficult for parents and children. It isn't only the individual who serves time, the entire family is affected."
During a recent class, residents shared stories about their upbringing and ways their parents and caregivers communicated with and disciplined them. They discussed whether the behaviors were healthy or unhealthy, which ones were generational, and the impact the behaviors had on them growing up. That conversation transitioned to the lack of control many residents feel when other caregivers must take on the primary parenting and decision-making role while they're incarcerated. But, Patcha said, they're all eager and ready to resume the leading parenting role upon release.
At another class, participants shared "one amazing thing" about each of their children. "They did not skip a beat. Each mother lit up when they spoke about their children. It was truly beautiful to hear and see!" Patcha said. "I have heard from more than a few residents that their children give them the strength and motivation to push through the tough times."
Opportunities for introspection and self-improvement
Over the last 13 months, residents have applied the behavioral skills and tools they've learned or renewed into their daily routines with fellow housemates and family members.
"Although pandemic has been difficult on everyone, I've noticed a lot of the residents doing some self-reflecting and working on their family dynamics. This has pushed them to be more self-aware and to think about the changes they would like to make," Montalvo said.
"When the residents are working and consistently busy, it doesn't give them much time to reflect inward. The distraction of life can become overwhelming, so some good has come out of this isolation period."