Charlotte Mayor Vi Lyles Proclaims Feb. 25 as "Ramona Brant Day"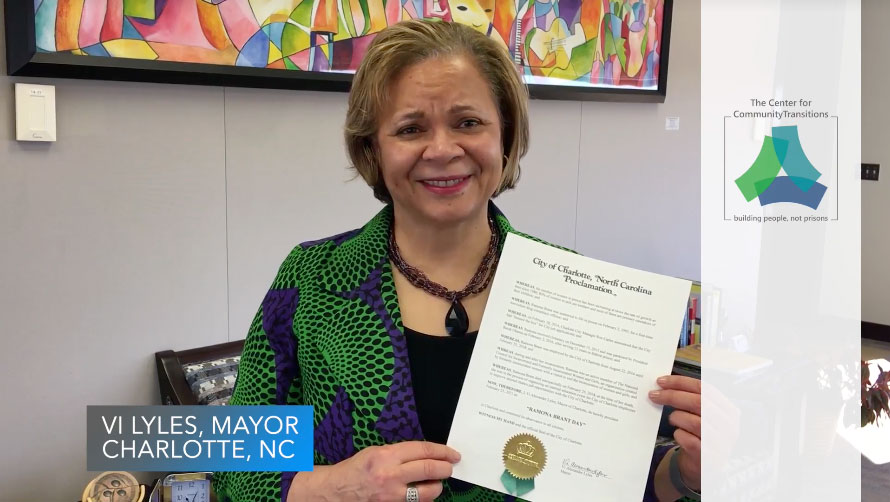 It's no coincidence the Center for Community Transitions chose Feb. 25 as the date for its Second Chance Employment virtual summit on investing in and hiring workers with criminal records.
That day marked three years since the unexpected death of Ramona Brant, a City of Charlotte employee who was making the most of her "gift" of a second chance after spending nearly half of her life behind bars.
In 1995, Brant was sentenced to life in prison for a first-time nonviolent drug conspiracy offense. President Obama pardoned Brant in 2015 after she served 21 years in federal prison. The 90-minute online gathering of second-chance employers, workforce development professionals, hiring managers and business community members on Feb. 25 was a fitting opportunity to celebrate and honor Brant.
"As you're convening on second-chance employment, I want to recognize with a proclamation the importance of this person in the work that's being done with reentry," said Mayor Vi Lyles, who proclaimed Feb. 25 as "Ramona Brant Day."
Since 1980 the number of women in prison has been increasing two times the growth rate for men. Additionally, 80 percent of incarcerated women are mothers, and most of them are primary caretakers of their children.
After her incarceration, Brant pledged to be a voice for current and formerly incarcerated women. She became an active member of the National Council for Incarcerated and Formerly Incarcerated Women and Girls, which focuses on abolishing incarceration for women and girls.
A year before Brant received clemency, the City of Charlotte "banned the box" on initial job applications and stopped asking about prior convictions. That decision opened the door for Brant to become a second chance employee with the city in 2016.
At the time of her death in 2018 – just over two years after her release – Brant was in the process of organizing an internal educational event for city employees to improve second chance job opportunities.
In an email to CCT, Dominique Brant said, "a loss of this magnitude still weighs heavy on the hearts of the many lives" her aunt touched. "On behalf of the Brant family, I would like to extend much appreciation to the City of Charlotte for this wonderful honor in memory of our beloved Ramona R. Brant," she said. "I am thankful that her memory will continue to live on and be celebrated in a manner fitting of the remarkable person she was. This fight is not over until everyone is free!"
Executive Director Patrice Funderburg added, "Our dear friend Ramona died three years ago today. Honoring her legacy to change the narrative about people who have justice involvement can now live on. Our Ramona didn't live to see policy change, but policy change happened."
Ramona's story, in her own words
I had never been in trouble before, so I didn't understand the law and how it works. You take them to trial and they're going to give you the maximum, and that's what happened. I was dating a young man, which is the father of my children, and he was involved with drugs. When he was arrested, they wanted him to take a plea agreement, which he refused. And they tell him if he didn't take the plea agreement, that I would be indicted. He felt that they didn't have anything against him and that he was going to take his case to trial.
I was told that I was not going to do any prison time, just sign the plea agreement and everything was going to be fine. I arrived to court for my plea agreement. And my lawyer was like, "Oh, by the way, you're going to have to do jail time." There was no understanding of how much time, they were just rushing me to sign a plea agreement, and they said we'd work it out later. And when we completed in court, I was found guilty and sent to selected prison.
There are a lot of women in prison that are there because of their association with a man. Not necessarily that they were involved, but the knowing is what makes us guilty because we know that they're actually dealing drugs. So, that alone will bring about a guilty conviction. And that's not to say that we were all totally innocent, but not guilty to the degree that we should be sentenced so seriously in the courts. One of the officers came up to me and told me that the President had called and I have received my commutation, I was going home.
It took me a minute to absorb, and I started crying and some of the officers well they were, "How much time have you done?" I said, "21 years." And then someone else asked, "Well, what was your sentence?" and I said, "Life," and they was, "Oh my God." So they started crying because they couldn't believe that someone was sentenced to that amount of time. And then the next question is, "Well, who did you kill?" I said, "No one. There was no violence in my case." But, sitting there with the President today, it was such a blessing to share our stories with a person that believed in us, and to hear the stories similar, but different.
Read more