Myra Clark receives Long Leaf Pine award, NC's highest civilian recognition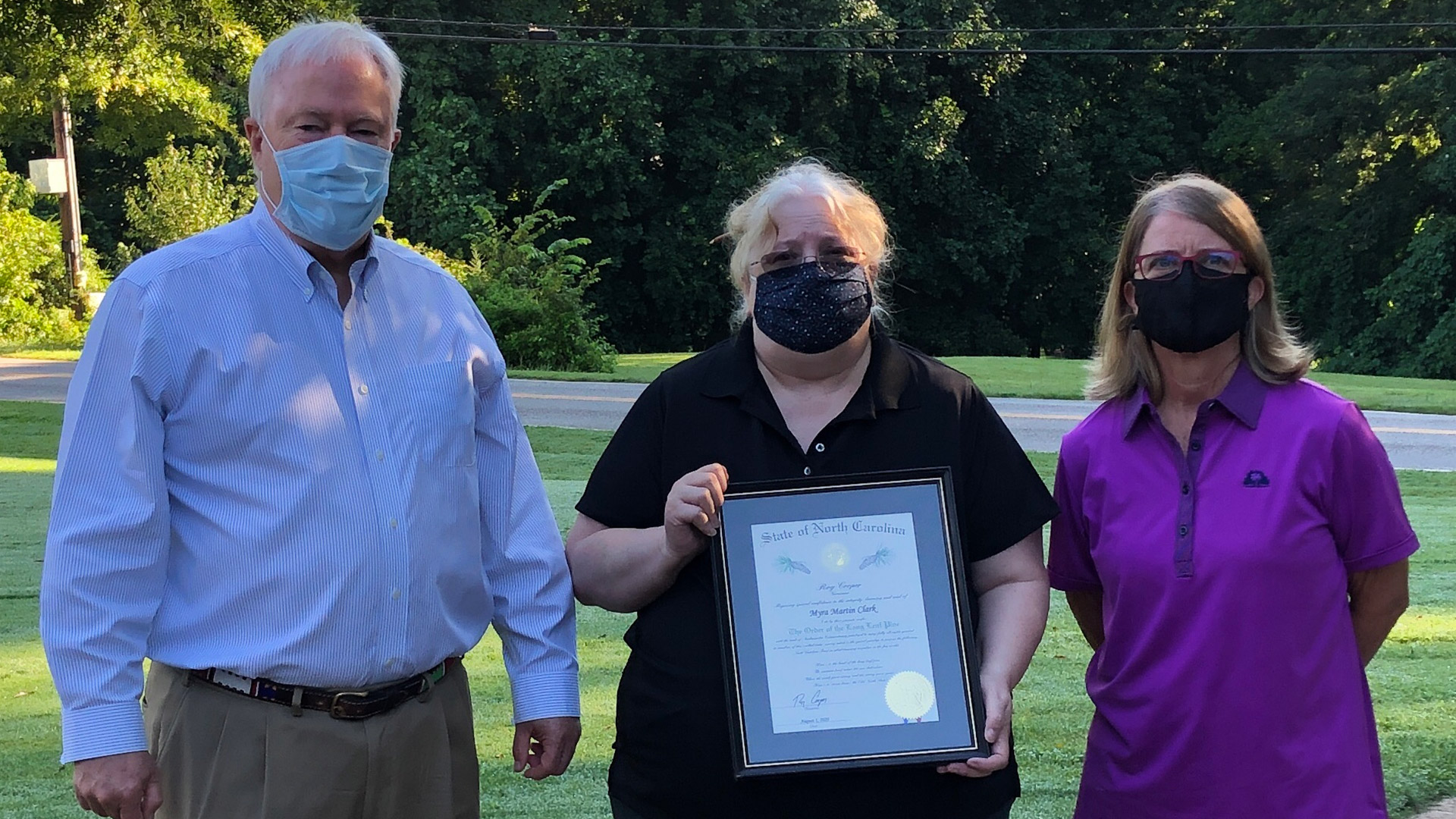 "I have seen the magic of Myra up close and personal. She advocates for a population that is frankly unpopular in many circles. She empowers program attendees to explore their creativity, to address issues that could have led to their incarceration, and to take responsibility for one another in their group setting. And yet, having a heart and being compassionate isn't enough to run the primary prison reentry program in Mecklenburg County. It takes business sense. It takes tenacity. It takes courage. It took Myra Clark. In her over three decades of service, she took a small, fledgling agency and grew it to be a statewide and in many corners a nationwide model for support."
– Carol Hardison, CEO, Crisis Assistance Ministry
"As a former U.S. Attorney, Myra and I worked together often on criminal justice issues, including reentry. She was a valued partner for the U.S. Department of Justice. Myra's leadership as an advocate for criminal justice is unparalleled, and I don't say that lightly. Over her three decades of leadership and service in Mecklenburg County and beyond, Myra has worked with passion and integrity. In addition to being the person in the room who knew the most about the criminal justice system, Myra also brought compassion and love in her work. She has made the lives of thousands of people better, and in doing so, has made our community better."
– Anne Tompkins, CCT board member and partner with Cadwalader, Wickersham & Taft
With accolades and endorsements like this, it's no wonder Gov. Roy Cooper bestowed Myra Clark with The Order of the Long Leaf Pine, one of the state's top honors.
Since the 1960s, NC governors have presented the award to people who've had an extraordinary impact on their communities and the state. As an unwavering ally for those impacted by the criminal justice system who has helped give thousands of North Carolinians a second chance, Myra certainly fits that description.
The big reveal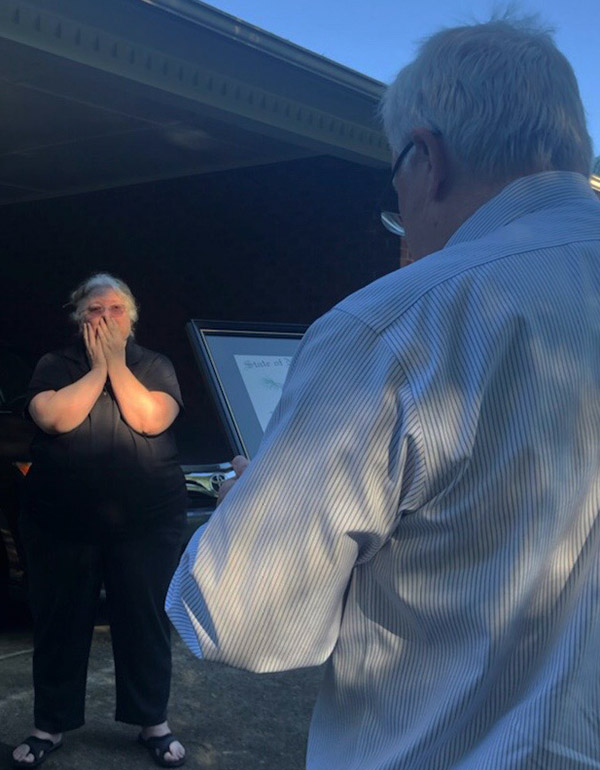 It all started last week with a simple text from John Tate, former CCT board chair and sponsor of the award application. John asked Myra if she would be home on Tuesday morning because he would be nearby and had something he thought she'd like to see. She thought nothing of it until Tuesday came and she went outside to greet John. The passenger door opened, and out came Anne.
"I knew then it had to be something significant because Anne is very busy," Myra said. "I thought, 'How does she have time to come all the way to Lexington with John to see me?' We chatted while socially distancing ourselves in the driveway about how we all were doing, how my retirement was going, and how COVID turned my retirement celebration plans upside down."
Then, John said they had something for Myra, opened the car door and pulled out The Order of Long Leaf Pine plaque.
"I got tears in my eyes," she said. "I knew it was a special honor given to some very special people in North Carolina, and I thought, 'How could I be the recipient of this?'"
John told Myra the governor couldn't be there because he had a lot on his plate and began reading the plaque. (Serendipitously, at that same time, Gov. Cooper was signing an executive order removing criminal history questions from state employment applications.)
An honor worth posting about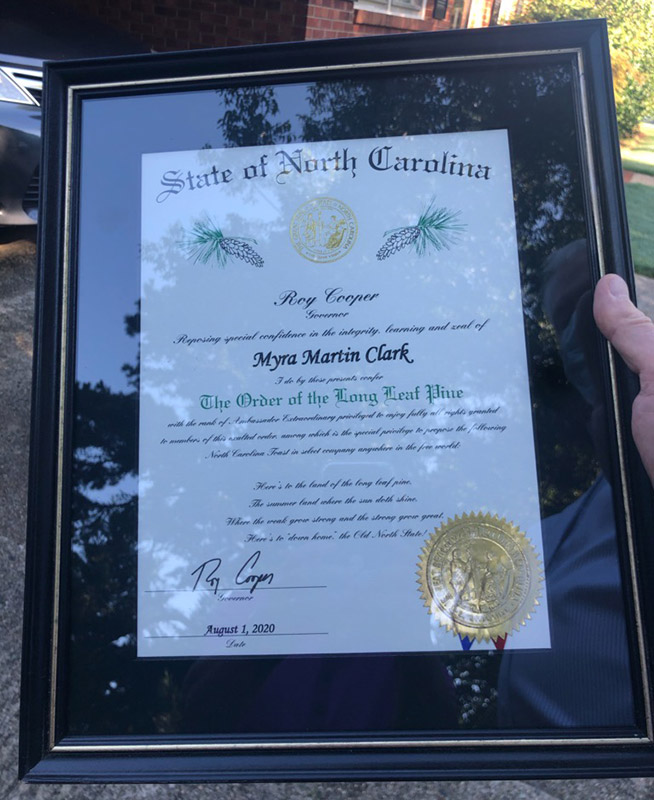 "Receiving this recognition is very special to me and I know it's not bestowed easily. It took a while to sink in," Myra said. "I never post stuff about myself on Facebook, but today of all days I wanted to. This was special."
As Myra started to receive congratulatory messages online, she said it made her feel like she was having a virtual award ceremony in front of friends, colleagues, and loved ones who are no longer here.
"My husband, Carl, was incredibly supportive through all the years he was alive. He would have been very proud of me."
If you'd like to send Myra a note, please send it to CCT's PO Box or her email at [email protected]. And since we can't celebrate in person, at Myra's request, we're throwing her a different kind of retirement party. In place of gifts and an in-person event, we're passing the hat – virtually speaking – with an online fundraiser in her name to benefit CCT.
Read: Memories with Myra Clark: Looking back on 32 years at CCT