Celebrate Myra Clark's retirement with a donation to CCT!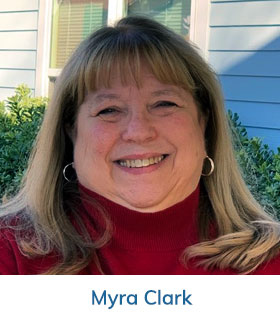 After 32 years with the Center for Community Transitions, Myra Clark has transitioned out of the office and into retirement.
If it were any other year, the Board of Directors would commemorate this milestone with a gathering of past and present board members, staff, clients, friends, family, volunteers and community partners. We'd toast Myra's decades of accomplishments and contributions, laugh and reminisce, eat cake, and wish her all the best.
But 2020 isn't a typical year. Thanks to the COVID-19 pandemic, we can't celebrate in person. So instead – at Myra's request – we're throwing her a different kind of retirement party. In place of gifts and an in-person event, we're passing the hat – virtually speaking – with an online fundraiser in Myra's name to benefit CCT.
With your help, our goal is to raise $11,843. That's $1 for every day Myra devoted to helping individuals and families affected by incarceration rebuild their lives and reintegrate into society as productive citizens. Please make your donation in support of CCT today!
The new decade signifies a brand new chapter for CCT as Executive Director Patrice Funderburg leads transformative change throughout the pandemic and beyond. A donation in Myra's name will help ensure we can continue fulfilling our mission.
This fundraiser is one last way for Myra to support the place where she could follow her bliss and mission in life. An organization that helps so many people in our community through a compassionate and dedicated network of staff, volunteers, donors, foundations, partners, mentors and board members.
Please donate here in any amount to honor Myra and support CCT. Or, send a check payable to the Center for Community Transitions, PO Box 33533, Charlotte, NC 28233. If you'd like to send Myra a note, please send it to CCT's PO Box or her email at [email protected].
Thank you for joining us in celebrating Myra's 32 years with CCT, so her legacy of helping formerly incarcerated men and women transform their lives may continue.