CCT + Wells Fargo Center for Community Engagement + Queens University = Dynamic and sustainable partnership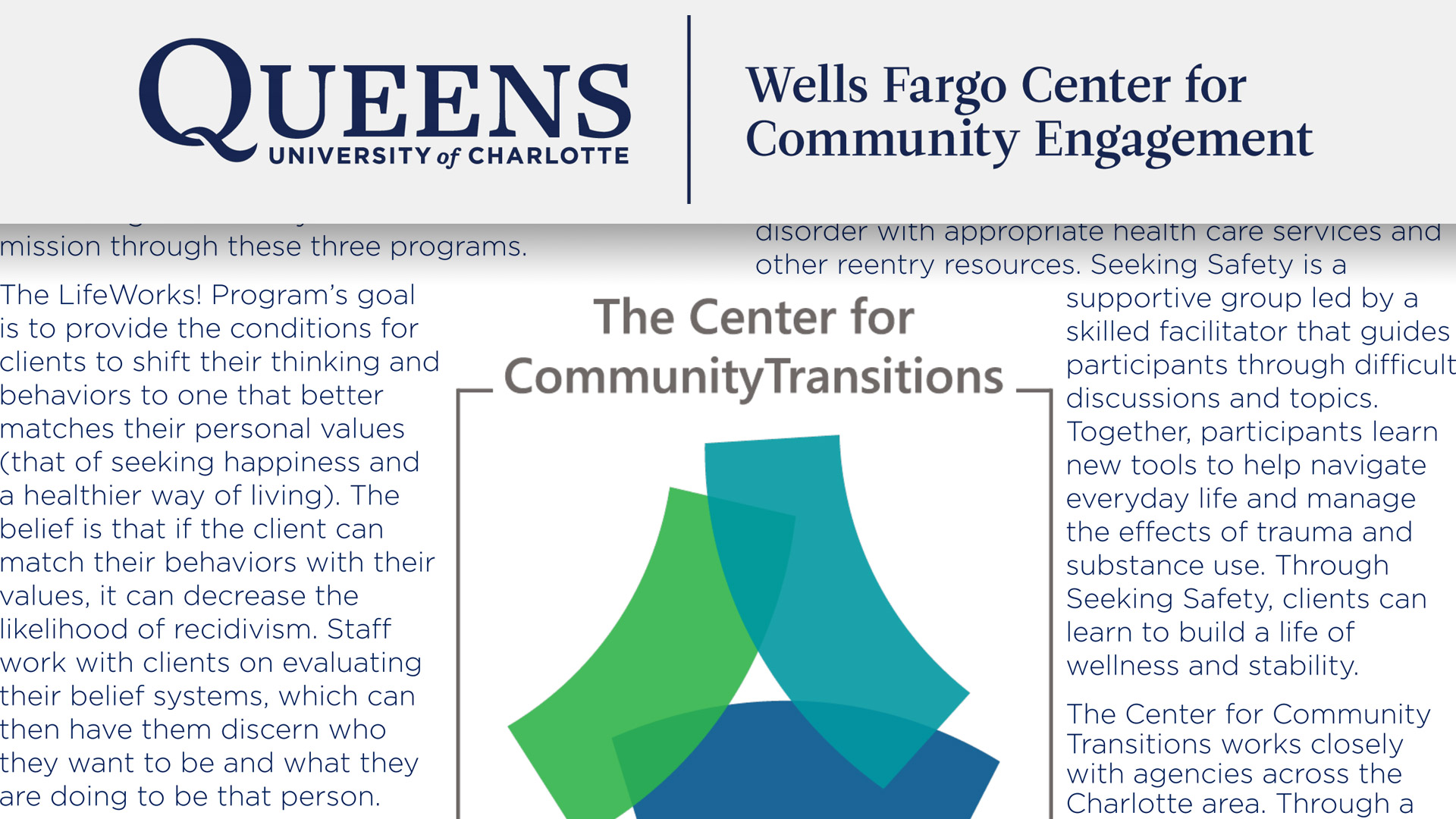 Thanks to our partnership with Wells Fargo Center for Community Engagement, students from Queens University got to see firsthand how incarceration affects mental health and learn how we work with the Charlotte prison system to offer services to formerly incarcerated individuals.
The center aligns with the university's strategic plan to ensure every student "engages in a unique combination of experiences that enhance learning beyond the classroom." The 2019 fall semester integrated community engagement across the university and involved several faculty members.
Sparking conversation through shared intellectual experiences
Projects and partnerships engaged students in "opportunities that meaningfully enriched their perspectives" while positively impacting the region. Several of those opportunities involved the Center for Community Transitions.
"Through our partnership, CCT collaborated with the university on five different courses throughout the semester. We were able to bring in observational learners to see firsthand how incarceration has influenced our clients' mental health," said Kevin Walsh, LifeWorks! program director.
Through the LifeWorks! program, clients shift their thinking and behaviors to one that better matches their personal values — seeking happiness and a healthier way of living. "Our belief is if our clients can match their behaviors with their values, it can decrease the likelihood of recidivism," Walsh said.
During their time with CCT, students also sat in on the initial assessment for new Seeking Safety clients. Seeking Safety is a supportive group led by a skilled facilitator who guides participants through difficult discussions and topics. Together, participants learn new tools to help navigate everyday life and manage the effects of trauma and substance use.
Additionally, students were introduced to the Addiction Severity Index, an interview designed to address a client's medical status, employment and support, drug use, alcohol use, legal status, family/social status, and psychiatric status.
Queens University faculty also incorporated the annual Common Read Program into their curriculum. In partnership with The Learning Society, the program offers a cross-campus, multidisciplinary experience to connect students, staff and faculty in a "shared intellectual experience, inspiring curiosity and sparking conversation."
Understanding CCT's role in Charlotte's prison system
CCT partnered with faculty to host and facilitate in-depth dialogues with the Honors Capstone Class and the Storytelling Queens Learning Community (QLC). Conversations surrounded issues within America's prison systems and the need for racial justice advocacy. Students were encouraged to evaluate their current understanding of racial equality within the prison system and the impact it has on the community.
"Learners assisted with CCT's programmatic offerings as allowed through the community engagement portion of their QLC," Walsh said. "Students also collaborated with CCT to explore the Common Read and discover how CCT works with the Charlotte prison system in offering services to recently released individuals."
A dynamic and sustainable partnership
Center Director Jenn Marts noted university faculty have been excited to add community engagement components to their courses. Additionally, students have experienced learning beyond expectations and community partners have received ideas and items to assist in achieving their goals and missions.
Added Walsh, "We were fortunate to create a dynamic and sustainable partnership with students, faculty and the Wells Fargo Center for Community Engagement. Students were a great help to the team at CCT and presented a high level of professionalism and energy to their work."
Learn more
CCT is honored to be highlighted in the fall 2019 issue of "Queens Focus," the Wells Fargo Center for Community Engagement at Queens University of Charlotte inaugural newsletter. Read the newsletter.