Executive Director Patrice Funderburg Reflects on 2020, Highlights Path for CCT's Future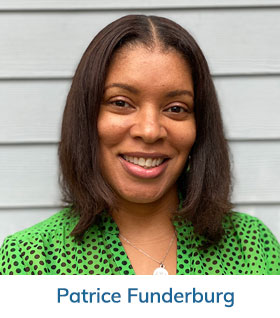 When I joined CCT as the agency's first Black Executive Director in January 2020, I was excited about the symbolic transition after Myra Clark had successfully led the organization for over three decades.
With an increasing national focus on criminal justice, I anchored my leadership focus on meeting the team and learning about and assessing the operational infrastructure. This was my first step toward preparing the agency for growth.
Accordingly, my 90-day plan included stakeholder engagement, program immersion, talent assessment and financial analysis — most of which were off to a good start through the end of February.
When COVID-19 rattled the world by mid-March, so began the process of drilling down into the agency's financial health, scenario planning and managing staff uncertainty. And without a crisis management plan to refer to, 'do it scared' was my daily mantra for what became a historic first year of leading CCT.
Just 67 days into my role, Gov. Cooper declared a state of emergency, Charlotte-Mecklenburg Schools closed and the Families Doing Time program came to a screeching halt. North Carolina Department of Public Safety suspended work release, Center for Women residents were home 24/7 and our LifeWorks! employment program was interrupted. Then came staff layoffs, a PPP loan, figuring out how to pivot to virtual, adjusting women's facility staffing to accommodate 24/7 capacity, and filling the gap on lost funding across the agency.
While the pandemic challenged me throughout 2020, it also provided opportunities. The pause and reduction in our programming allowed me to strategically focus on CCT's infrastructure. With assistance from consultants, we evaluated many of our business processes, fundraising practices, tech and data capacities, and community and business partnerships.
Conducting much of this work during the pandemic saved valuable time on a process that would have usually taken 12 to 18 months. Below are some of the action items and initiatives we're taking now or in the months ahead to ensure CCT is on the best path to accommodate future growth.
We're restructuring our fundraising and development function to focus on strategic, multi-year investments to fuel growth.
We're targeting funding sources focused on second-chance employment, educational equity, women and incarceration and we are formalizing a plan to pursue grants in the emerging racial equity space.
We're expanding "in-reach" to residents in the Mecklenburg County Detention Center through virtual training, and we're gearing up to do the same in four nearby state prisons.
We're expanding CCT's reach in the criminal justice sector by:
We're making FDT program enhancements to align with Collaborative for Academic, Social, and Emotional Learning (CASEL), the education model that guides SEL practices for school districts across the country.
We're exploring corporate investments that would help pay a stipend to CCT clients while they're taking classes — just one way to increase capacity for reentry programs like ours to offset basic living expenses and lower the chances for recidivism.