FIT Program Client Spotlight: Meet Robert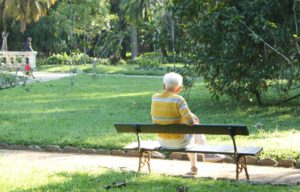 Robert was 60 years old when he was released from prison in Goldsboro on June 5, 2018. He had $94 to his name; three days later, he was down to $4.
Like many people who reenter society following incarceration, Robert had no place to live, a job, health insurance or access to health care services. So he walked about 15 miles each day going from one organization to another looking for assistance.
But the physically grueling search for help took its toll. In a matter of days, Robert, a diabetic, developed a blister on his right foot and began having dizzy spells and bouts of nausea.
On July 1, while standing in line for his Bojangles order and just one day after moving to Charlotte, Robert's face turned gray, his vision began to blur, he became dizzy and started sweating profusely. "I must have blacked out because I became aware that someone was asking me if I was OK. The last thing I remember was waiting for my order," he said. "Evidently, I had already been served and was standing at the counter unresponsive. I sat down and a few minutes later the EMTs arrived."
'Given up hope'
Robert was transported to the hospital and admitted, but was released the next day. That was the beginning of several trips to the emergency room, which became his sole health care provider. "I would go to the emergency room only when I became so ill I couldn't go on," he said. "Between June and December I made three trips."
By December, Robert's right foot still hadn't healed from June so he had surgery to cut out the infection. "For the first 4 and a half months I was sick to my stomach every day. I felt hopeless about my medical situation and had virtually given up hope," he said. "I felt I was never going to get well and it was only a matter of time till I became so sick my health would endanger my life."
The surgical wound on the bottom of this foot was substantial – 7 inches long,  1 ½ inches wide and ¼ inch deep. Doctors told Robert he needed to receive treatment at the wound clinic three times a week until it healed. "I told them that was impossible; I couldn't afford it," he said.
Four days after surgery Robert went back to work, which required him to stand on his feet 8 to 10 hours a day. A week after surgery he saw his doctor, who instructed him to limit walking to 30 minutes a day.
"But I continued to work because I couldn't afford not to," Robert said. "I felt my situation was hopeless and it was just a matter of time. I could see myself either dying or losing a limb within the year."
'My whole life changed' with FIT
"Without the help of the FIT program I have no doubt I would have died or lost a limb."
Robert's case manager at Mecklenburg County Re-Entry Services, a Center for Community Transitions (CCT) partner agency that was helping him find transitional housing, referred him to the Formerly Incarcerated Transition (FIT) Program. Offered through CCT's LifeWorks! program, FIT connects formerly incarcerated individuals with a chronic disease, mental illness and or substance use disorder with health care services.
"I was seen almost immediately and my whole life changed. The people at the Charlotte Community Health Clinic gave me the care I needed that I had failed to get anywhere else," he said. "I felt like a different person right from the start. I regained my hope and started getting better."
When Robert entered the FIT program, his foot was already becoming infected again. He was physically drained from being sick to his stomach several times a day for four months and his hemoglobin A1C was twice the normal level.
"I hadn't been taking my meds because I had run out and could not afford to get them," he said. "Over the course of the next few months my A1C steadily went down, I lost weight and slowly started to feel better."
Robert no longer got sick every day or worried about being able to hold his job. In June 2019 – a year after the blister first developed – his foot was finally healed completely.
"Without the help of the FIT program I have no doubt I would have died or lost a limb. I had come to feel that death was inevitable," Robert said.
He added, "But this program changed my health as well as my spirits. It gave me hope when I had lost all of that. From the moment I entered the FIT program, I was changed."
With generous community support, Center for Community Transitions can connect 72 individuals like Robert who have chronic or mental illnesses with essential medical care and support resources. Learn more about how you can give a chance for change this holiday season and beyond.