LifeWorks! Employee Spotlight: Meet Traletta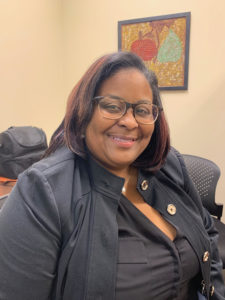 When Traletta got out of prison, she had no savings, job or employment prospects. What she did have was a criminal record and an uphill battle to convince employers she was worth the risk of hiring.
"But then I entered the LifeWorks! program at the Center for Community Transitions and it helped take me down a positive path that changed my life," she said.
LifeWorks! is CCT's job readiness and retention program that provides people with criminal records not only the skills they need to find and keep employment, but emotional support to reach their professional and personal goals.
Ninety-five percent of those in jails and prisons will eventually be released; CCT reduces recidivism by providing formerly incarcerated individuals the tools and resources they need to successfully reenter the community. Our recidivism rates were 17% after one year.
From CCT client to employee
Just as it does for many, LifeWorks! left a lasting impression on Traletta. "After I graduated from the two-week LifeWorks! program, I landed a full-time job at the blood bank," she said. "I also went back to school at a local community college to complete my human services degree."
Additionally, Traletta spent her free time volunteering at LifeWorks!, which led to a full-time Client Advisor position with CCT. Her relationship with our organization has come full circle – from LifeWorks! client to inspiring and successful employee. She now helps others who are facing the same obstacles she overcame thanks to assistance from CCT and other businesses that saw beyond her past.
In 2020, CCT's career development and job retention training will help 288 formerly incarcerated men and women – and 90% will stay employed. Our employment readiness workshop will assist 360 clients with criminal records – and 80% will find employment.
Humans are more than the worst decision they've made. Generous community donations allow us to continue helping clients (and employees) like Traletta. Every donation, no matter how small, gets CCT closer to providing the tools and resources people need to successfully reenter our community.
Give a chance for change by helping lower the chance of recidivism for our LifeWorks! clients.